The United States Marines' Expeditionary Energy Office has set a goal of reducing fossil fuel consumption by 50% at the beginning of 2025. The Expeditionary Energy Office was established in November 2010 in order to increase efficiency for missions and convoys in the face of oil scarcity and the growing instability in petroleum producing nations.
Energy efficiency also comes with a very important added benefit – saving the lives of our soldiers. Marines on the front-lines of battle depend on supply fueling convoys to support operations, and a study conducted by the Marine Corps Combat Development Command found that for every 50 convoys deployed, at least one soldier is wounded or killed. Colonel Bob Charette stated, "Our strategy is taking that Marine who's burning about eight gallons of fuel per day and turning him into a Marine that's burning four gallons of fuel per day."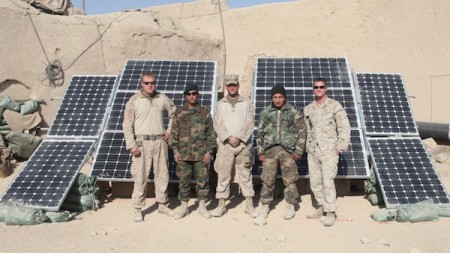 Last summer, Marines with Company I, 3rd Battalion, 5th Marine Regiment tested solar technology for a month in California, which they found saved them eight gallons of fuel each day that would have normally been used to power generators. Now, the India Company regiment is deployed in the Helmand Province of Afghanistan and using the solar technology to power their entire forward operating base.
The company's communications equipment runs on a solar panel tarp that can be easily rolled up and placed in a backpack for travel. Normally, the platoon would have to carry days worth of heavy batteries to power the same equipment. By the summer of this year, the Marines are hoping to deploy renewable energy devices at the battalion-level. 1st Lt. Josef Patterson, platoon commander with the company that tested the gear in Afghanistan, said, "I was a little skeptical at first, but we're completely solar-powered, and I think it's a great thing."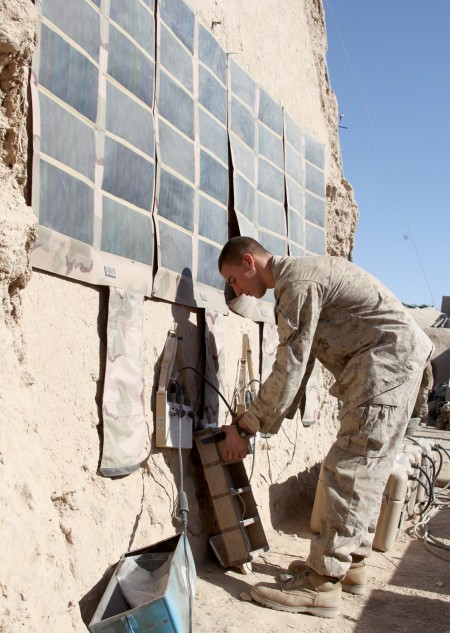 Marines at Camp Pendleton in California just recently installed a new solar power station that will help defer $336,000 in electricity costs annually. And, just show that United States soldiers are not the only ones with solar on their minds, U.K. soldiers may soon be going that way as well.
We hope you are enjoying the green technology news and insight provided by our dedicated editorial staff. If you do, please take a moment to help us spread the word by voting for us as Best Environmental Sci-Tech blog in the annual Best of Green 2011 TreeHugger awards. Voting ends on April 1, 2011. Thank you!