Talk about living close to the earth: a new office building slated for Claremont, California, is composed of more than 90% dirt, using the ultra-green Superadobe technique developed by Iranian architect Nader Khalili.
No little funky little Earthship, this new building–designed to house the offices of Uncommon Good, a local non-profit dedicated to helping the poor and preserving the environment–totals 25,000 square feet, according to World Interior Design Network.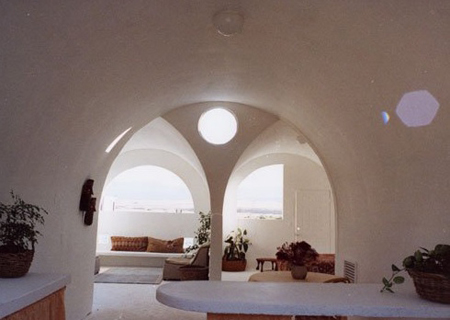 Green features abound in this design, it seems. The first step in constructing a Superadobe structure is to dig out the building site, then to pack the soil into long, biodegradable bags, which are stacked to create curving architectural forms, then faced in earthen plaster.
These thick adobe walls will provide highly effective passive cooling and heating, and feature wind-scoops that increase natural cooling without expending energy. Triple glazed windows protect against overheating due to solar gain, while photovoltaics and a solar thermal system provide electricity and hot water, respectively.
This project marks the first time the Superadobe technique reportedly has been applied to a non-residential U.S. building, and has been endorsed by Al Gore's Alliance for Climate Protection, among other organizations.