J. Marchini Farms grows nuts, figs and plenty of different kinds of Italian produce on a  fourth generation farm in California's San Joaquin Valley. Over several decades the company has developed so that they not only grow the produce, they process it, store it and deliver it to their customers. Company president Joe Marchini decided the time had come to further expand the operation and several ideas were on the table. What they decided on was a 579.6 kilowatt solar power system.
Cenergy, a California based commercial solar installer, provided and installed the system on top of roofs and carports and on the ground throughout the farm's processing facilities. The system is expected to generate enough solar power each year to offset 80% of the facility's electricity use and reduce the farm's carbon emissions by around 596 metric tons of CO2 annually. According to Cenergy, the farm's new system  should pay for itself in about five years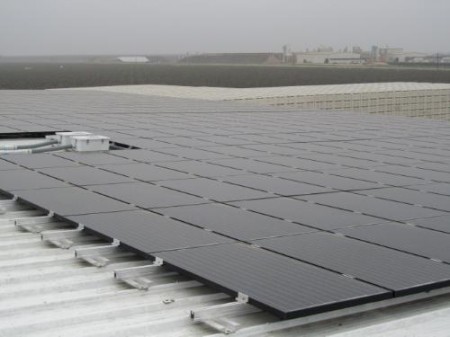 Marchini's certainly isn't the only produce farm in California making strides in sustainability. The Vessey and Company farming operation, for example, has quite a solar energy operation planned for themselves. That installation includes two 54.34 Kilowatt solar systems that are expected to generate about 93,435 Kilowatt hours of electricity annually.
The two farms will use their solar power in different ways. While the Vessey farm's solar power will go toward operating their main offices with surplus going back into the grid to offset off-season costs, the Marchini installation's energy is being used to power the farm's on-site processing and cold storage operations.