Solar power as a standard feature in a new home? Yes, please. Mega-homebuilder KB Home has stepped up to the renewable energy plate in Southern California with the announcement that solar photovoltaic (PV) systems will now come standard in ten different new home developments.
KB Home communities that already include solar PV systems are Newbury at the Enclave (in Eastvale), Manzanita at Paseo del Sol (in Temecula) and Monterey at Otay Ranch (in Chula Vista). Five more Southern California communities featuring solar power systems in every home are slated to open over the next two months, and two more are expected to do so this fall.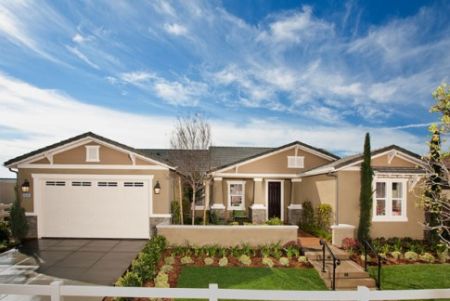 While KB Home has offered solar power systems as an option for homebuyers in select communities in California and Colorado for a number of years now, this marks the first time it will build entire communities featuring solar power systems in every home. SunPower Corp. is no doubt happy to be providing the attendant solar tech, which could could also help qualify homeowners for a federal tax credit (pending upcoming legislation).
The home builder notes that if consumers respond as positively as expected to the financial and environmental advantages of these homes in the marketplace, it plans to expand this solar initiative to its other markets across the country. While we aren't always a fan of housing sprawl, if you are going to go down that route, putting at least some green thought into it is better then none at all.