Solar Clover is billed as "an attractive, affordable" photovoltaic solar power system, manufactured by a company called Armageddon Energy. In the face of an apocalypse, presumably, we're not going to care much about how good our solar panel look, but hey–maybe these folks are looking to get in on today's renewable energy market while keeping one eye out for tomorrow's.
The SolarClover system features lightweight solar panels and quick-assembly racks. It offers a small scale 1kW AC and can be installed by your garden variety trade professional with no specialized tools or training, in what is described as being "as simple as getting a new dishwasher."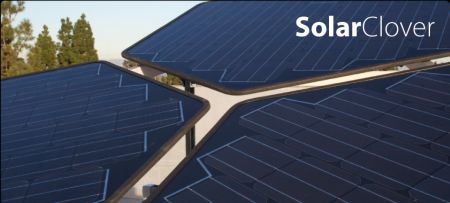 Armageddon Energy was one of five companies out of 3,600 entrants to win an honorable mention in the first annual GE Ecomagination Challenge last year for their work in bringing greentech to the developing world, and has come back to the competition this year to help power the homes of the future.
The Solar Clover is not yet available to consumers, but is taking pre-orders online.