Finance giant Citi is teaming with SolarCity on a $40 million fund to back solar power lease arrangements this year. That's a small piece of change for Citi compared to the $24.3 billion it has invested in alternative energy and cleantech – part of a 10-year plan to make $50 billion in such investments – but the move is significant in that it represents the firm's first foray into residential solar.
SolarCity said the infusion from Citi raises its financing for solar leasing to $700 million. Under these popular programs, companies design and install home solar power systems, then take care of insurance, repairs and monitoring. The customer's only outlay is a monthly lease payment, which SolarCity said can be as little as $30 in some areas of the country. Meanwhile, SolarCity (and its backers) take advantage of the tax incentives offered at the federal (and often state and local) level.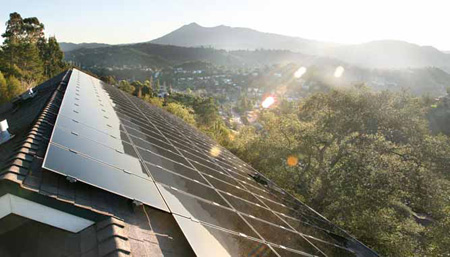 SolarCity, which had focused on Western states like California, Arizona, Colorado, Oregon and Texas, noted that it has expanded its services to Maryland and the District of Columbia last month, and was aiming to grow into more states this year. In March 2010, we told you about a big new investment the company had received from U.S. Bancorp.
And more funding from Citi might follow, SolarCity suggested.
"Citi has consistently put its money where its mouth is when it comes to advancing clean power use, and now the leading global financial services company is extending that contribution to residential solar," said Benjamin Cook, SolarCity's vice president of project finance. "We expect the partnership with Citi to be the first phase of a relationship that will significantly increase residential solar adoption in the U.S."