We tend to think of solar power coming in the form of big utility-scale projects or systems that provide power for individual businesses or homes. But Southern California Edison (SCE) is trying out a different model – called "neighborhood solar stations" – to add renewably generated power to the grid. The utility just went online with seven such stations in the Inland Empire, four in Ontario and three in Redlands, which together can provide enough electricity to supply 8,125 average homes.
In both cities, SCE is leasing roof space from the distribution giant ProLogis – 1.8 million square feet of warehouse roofs in Ontario and another 1.5 million square feet in Redlands. In all, some 67,550 photovoltaic panels have been installed, the utility said, capable of generating 12.5 megawatts (MW) of power.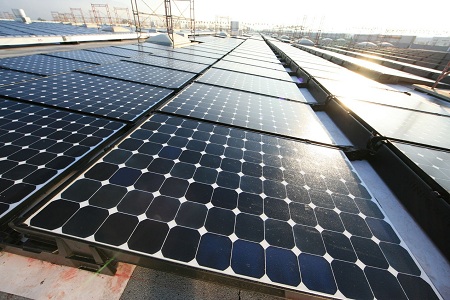 SCE said it's pursuing the neighborhood stations at the behst of the California Public Utilities Commission, which has directed the utility to offer long-term power purchase agreements to independent producers willing to build neighborhood plants. SCE said it has handed out 29 contracts that once built out will provide about 43 MW of solar power. The utility said it has also seen an increase in cost-effective bids to provide energy to the utility using photovoltaic solar. SCE said that last November it signed 20 such purchase agreements that have the potential to yield 23.9 MW. All this, SCE said, is driven by the decline in the price of photovoltaic cells.
"When Southern California Edison originally announced its goal of building a network of local solar plants, we wanted to help speed up California's deployment of solar generation while driving down the cost of photovoltaic panels for everyone," said Mark Nelson, SCE director of generation planning and strategy. "Current market indicators reveal that solar photovoltaic power is now substantially less expensive for our customers than when we launched this project."