The Arizona Diamondbacks are making a step in the direction of green energy this season with the installment of a solar power canopy above the plaza of Chase Field. The project was born out of a partnership between the baseball team, Maricopa Country Stadium District, and Arizona Public Services (APS), a subsidiary of Pinnacle West. Construction began on February 10th and is expected to be completed by the end of May.
Designed by HKS, Inc., who were also behind the Dodgers and Cowboys stadiums, as well as several green projects, the structure will be built by a division of Ironco. The canopy will cover just over 17,000 square-feet outside the western entrance and ticket booth windows, and is expected to produce 75 kilowatts of power. Although not much in terms of useable power when considering the vast energy needs of a professional baseball stadium, APS plans to use the energy collected as a technical demonstration and testing project.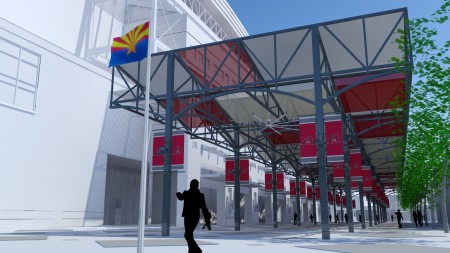 Projected to be a twenty year project, one of the main components of the partnership is that APS will get to run exhibitions. Ranging from educational demonstrations to battery storage testing and electric vehicle charging stations, APS will have the chance to showcase some of their new technology to the public on a large scale, especially in July when Phoenix is set to host the All-Star Game. Solar power aside, fans will no doubt appreciate the extra shade the new structure will lend during the scorching Arizona summers.
According to a University of Michigan release, more and more teams are using eco-friendly measures to build good relations in the community. The installment of green technology can also bring new partners to teams, who may support future endeavors, not to mention the potential, long-term savings in utility bills. For example, last year the New York Jets completed a huge solar project for their training center in New Jersey with the help of Chinese firm Yingli Solar.