An 11-kilowatt (kW) capacity solar power system usually doesn't make the news. That's only about twice the size of the average home system, after all. What makes the unveiling of this particular system interesting, coming up on February 3, is where it's happening, and who's involved.
It's happening in West Virginia, where, in case you hadn't heard, coal is king. And the locals are apparently behind this project, which has included a week of training and solar site assessments culminating in the installation of what is said to be the largest renewable-energy system ever completed in the Southern Coalfields.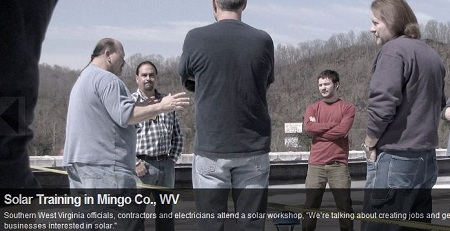 "It's significant because the mayor of Williamson, W.Va, a town that welcomes visitors with the sign, 'The heart of the billion dollar coalfields,' is the one doing the ribbon-cutting," said Eric Mathis, executive director of The JOBS Project, an organization that promotes renewable energy as a way to create long-term, good paying jobs in central Appalachia.
"The installation is being led by a West Virginia company using U.S.-made panels," Mathis went on in an emailed statement. "Local electricians are learning job skills while receiving $45 an hour. An area that has up to this point summarily rejected all things not coal opens up its arms, eyes and skies to a broader view of energy and its role in it. Plus, the groundwork is laid for hundreds of projects like it. That's what's significant."
The regional company Mountain View Solar & Wind and the national heavyweight SolarWorld were in on the project, and will be on hand for the big ribbon-cutting and media event.