What did it take to install the largest photovoltaic (PV) system on an assisted living facility in the United States? Finding every opportunity to lay down solar panels, that's what. Solar Electrical Systems (SES) said it cobbled together a 288 kilowatt (kW) system at San Clemente Villas by the Sea, in California, by using the rooftop, building a parking lot canopy and by taking advantage of a hillside with good sun orientation.
"The hillside system posed the biggest challenge because of the steepness of the hillside and lack of freeway access, but SES's years of experience turned the unusable hillside into a solar power plant," the company said.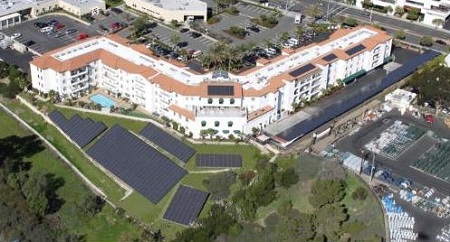 That may or may not impress you, but perhaps you'll take a little pride in the project – which is visible from Interstate 5 – knowing that you helped pay for it (especially if you're a California resident): SES pointed out that solar power rebates and tax incentives picked up 87 percent of the project's undisclosed cost.
The company claimed that with that substantial aid, the system will pay for itself in four years and save the owners $16 million over 30 years.