Sometimes it is small scale solar facilities which can add up to make a renewable energy company a major player in its region of the world. Such is the case of National Grid, which recently debuted three new Massachusetts solar facilities in Revere, Haverhill and Everett, making it the largest owner of solar generation in New England.
As reported by BrighterEnergy.org, the three solar plants now online will, along with another plant currently in operation, "generate a total of 3.4 megawatts of solar power, thereby eliminating a collective 3.8 million pounds of carbon dioxide emissions per year." National Grid, in an announcement related to the new solar facilities, said that this other plant exists in Whitinsville/Sutton, Mass and, along with the others, can produce at capacity enough clean energy to offset the actions of more than 1,100 passenger cars or the use of 14,615 barrels of oil."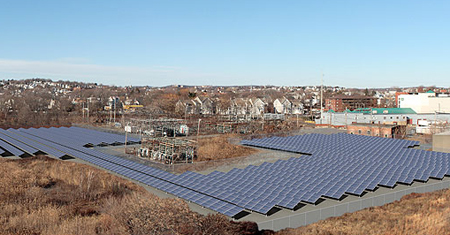 As an example of what goes into a smaller scale solar project like this, consider the Revere solar site: capable of generating .75 mega-watts of solar power through 2,640 solar panels; construction began during the spring of 2010 with placement of the first panel in November; capable of generating enough solar energy to power approximately 150 homes annually; and estimated cost of the project around approximately $5.4 million.
Down the road National Grid is another small scale solar project for Dorchester near the company's Liquefied Natural Gas (LNG) rainbow tank that is expected to come on line in early summer of 2011.
Like what you are reading? Follow us on RSS, Twitter and Facebook to learn more and join the green technology discussion. Have a story idea or correction for this story? Drop us a line through our contact form.