It's a story that seems to be repeating itself every few weeks: group files lawsuit to stop solar plant. There was the one against a whole slew of projects in the Southern California interior; and the one that succeeded against an Imperial Valley project; and the one by the Sierra Club. Now add to the list a lawsuit by a conservation group to block Ivanpah, a planned 370-megawatt (MW) solar-power plant in the Mojave Desert that the group claims could harm the federally protected desert tortoise.
Western Watersheds Project (WWP) brought the lawsuit in the U.S. District Court for Central California, alleging the Department of the Interior, Bureau of Land Management and Fish and Wildlife Service and their top officials, "in an ill-conceived rush to accommodate massive renewable energy projects vying for multi-billion dollar federal tax credits originally due to expire on December 31, 2010," reportedly failed to comply with federal environmental laws.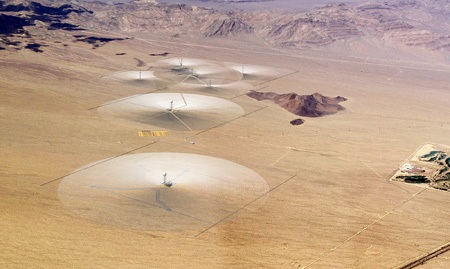 BrightSource Energy broke ground on the Ivanpah plant in October. On the same day, the company announced that NRG Energy had taken a $300 million stake in the project.
The desert tortoise was listed as threatened in 1990 under the Endangered Species Act. That status invokes a higher standard of environmental review, one which the government allegedly failed to follow, the WWP said. The WWP suit appears to mirror yet another recent legal challenge – a Sierra Club petition to the California Supreme Court to halt construction of the Calico project because of its alleged impact on the desert tortoise.
"The agencies did not even determine how many desert tortoises were on the site, nor did they determine what impact blocking the north Ivanpah Valley with an industrial-scale power plant would have on connectivity with other tortoise populations," Michael Connor, WPP's California director, said in a statement.
The group is seeking a preliminary injunction to stop construction pending a full trial.