Energizer came to Las Vegas with a broad range of gear to show. Solar-powered devices weren't the items the company headlined, but the growth of the line was another indicator of how mainstream this once wacky-gizmo segment is becoming, and they sure caught our eye.
Start with the Energizer line of solar lights, which use embedded rechargeable battery packs "for hours of illumination." This trio includes the Solar Lantern, which uses an amorphous silicon panel for power, or can run on three D cell batteries. It's a bit bulky, but, hey, it's a lantern, not a flashlight. If you want a flashlight, get the Solar Flashlight! It comes with the added feature of a hand crank for quick-fire kinetic energy. Lastly, there's the Solar Spot Light, which falls in between the lantern and the flashlight and offers a DC adapter for car.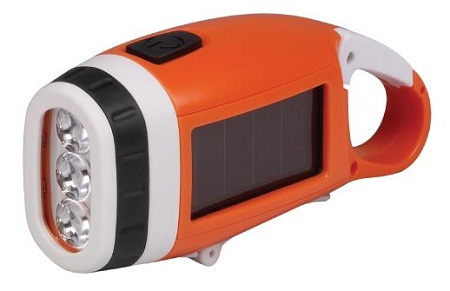 For pure power generation, Energizer has the Energi To Go SP1001, with a power capacity of 1000 mAh @5V. The company notes this solar charger is designed for outdoor use, which is good, considering that's where the sun tends to be found. For powering small devices it can provide up to six hours of talk time, 25 hours on an MP3 player and 34 hours on a Bluetooth headset.
For more extravagant energy needs, Energizer offers the EZ1300 Solar Panel Charger. Under a bright sun it provides 20 watt/1.3 amps of power, ideal, the company said, "for powering a lighting system and small appliances, as well as replacing 12V power consumption." An even bigger model, with 60 watt/ 3.9 amps of power, is also available.
Like what you are reading? Follow us on RSS, Twitter and Facebook to learn more and join the green technology discussion. Have a story idea or correction for this story? Drop us a line through our contact form.