It's all about the power in Boulder City. The Nevada town was born during the Great Depression as a place to house workers building what would become known as Hoover Dam, the 2,080-megawatt-generating behemoth on the Colorado River. Now the city has four solar power plants on its fringes – including the just-completed Copper Mountain facility – and another, the biggest yet, appears to be on the way.
Sustainable Energy Capital Partners (SECP) and the South Korean company POSCO Power announced they will build a 300-megawatt (MW) photovoltaic power plant in Boulder City. "This project is the world's largest solar PV power plant and it meets the POSCO Group's actively promoted green energy strategy. It will be the foundation of our entry into the US and other overseas markets for new and renewable energy," Soung-Sik Cho, president and CEO of POSCO Power, said in the press release.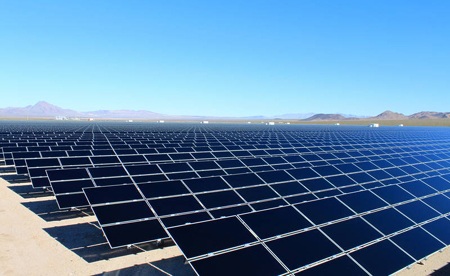 The companies said construction was scheduled for the second half of 2012. When fully operational, the plant would have the capacity to provide electricity to nearly 135,000 households for 25 years, the companies said.
Boulder City no doubt looks forward to the plant actually being constructed. The city generates desperately needed revenue from the lease of land for solar power development, and earlier this year another proposal that would have resulted in the fifth and largest solar plant there fell through. As the Las Vegas Sun reported, the loss in revenue devastated the Boulder City's budget.
Like what you are reading? Follow us on RSS, Twitter and Facebook to learn more and join the green technology discussion. Have a story idea or correction for this story? Drop us a line through our contact form.