U.S. Secretary of the Interior Ken Salazar has pulled out his APPROVED stamp and for the ninth time this fall used it on a solar power plant destined for federal lands. The secretary said yes to Crescent Dunes, a 110-megawatt Nevada plant that would be among the first in the nation to use molten salt to store and release energy.
SolarReserve, whose subsidiary Tonapah Solar is behind Crescent Dunes, had a similar plant – the Rice Solar Energy Project – licensed last week by the California Energy Commission. Abengoa Solar is also working to build a plant in Arizona that would use the molten-salt technology.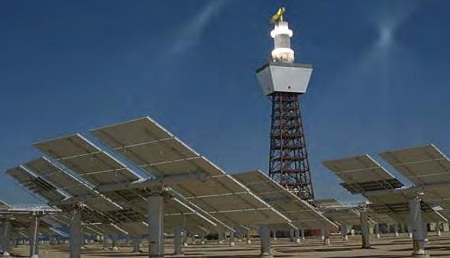 Crescent Dunes is on Bureau of Land Management property about midway between Las Vegas and Reno, a good deal north of where most of the other big solar projects are set to go in. There was some early opposition to the plant from the Air Force, which feared it might disrupt operations at a nearby test range, and both the feds and SolarReserve CEO Kevin Smith made it a point to thank the Air Force for working to make the project possible.
Crescent Dunes is classified by the National Renewable Energy Laboratory as a "concentrating solar" plant. It uses giant mirrors to bounce sunlight at a giant tower. Molten salt flowing through the tower absorbs the heat from this sunlight, and the salt can store the energy for up to eight hours after sunset, according to SolarReserve.
Looking for green gadget gift ideas for this holiday season? We have you covered with our annual Green Gadgets Holiday Gift Guide – check it out now!