The federal government has been approving huge solar projects on public lands left and right this year, and it just laid out a plan to speed that process even more by creating "solar energy zones" in six Western states. But one of the first and biggest plants set to be built – a 709-megawatt plant planned for the Imperial Valley by Tessera Solar – is on very shaky ground after a federal judge granted the local Quechan Tribe a preliminary injunction halting construction.
It's unclear exactly what the ruling by U.S. District Judge Larry Burns will mean to the project's future. Tessera had warned that it needed to begin work on the massive plant by the end of this year in order to qualify for hundreds of millions of dollars in funding through the American Recovery and Reinvestment Act. Whether the passage of tax legislation extending some federal clean-energy programs makes that a moot point is uncertain, but the company was clearly outraged by the ruling out of the federal court in San Diego.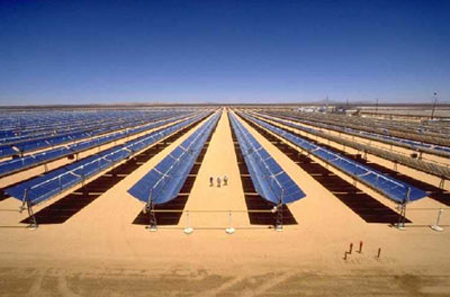 "This ruling sets back our ability to provide clean, renewable power to Southern California and delays our ability to bring jobs and economic development to a region with the highest unemployment rate in America," CEO Robert Lukefahr said in a Tessera press release. "It is especially troubling given the very lengthy and comprehensive permitting and consultation process that Tessera Solar and the BLM have undertaken."
And yet it was precisely on that point – the degree to which the Quechan Tribe was consulted – that Burns based his ruling. Burns held that the Bureau of Land Management didn't adequately consult with the tribe, failing to follow laws as established by Congress and rules put forth by the Department of the Interior. The judge agreed with the tribe's claim that this lack of full consultation could put at risk hundreds of Quechan historic sites near the project.
Looking for green gadget gift ideas for this holiday season? We have you covered with our annual Green Gadgets Holiday Gift Guide – check it out now!