Sure, there are areas of India that are extremely technically advanced–but there are also areas where school children don't have electricity in the classroom. Now, thanks to a partnership between Singapore's Nanyang Technological University (NTU), Houston's Rice University and an Indian nonprofit, Villages for Development and Learning Foundation (ViDAL), some of the estimated 100 million Indian children whose schools lack access to the grid may soon have access to "one of the world's most advanced electronic notepads."
Krishna Palem, a Rice University professor, is leading an effort to create a low-cost, high-efficiency, solar-powered electronic version of the hand-held slates that millions of Indian children use in schools today. Palem's brainchild, known as the I-slate, is currently under development at the Institute of Sustainable and Applied Infodynamics (ISAID) at NTU, where the first prototypes were built over the summer by a team that included three Rice undergraduates. The I-slate is set to undergo a second round of testing in India before the start of the New Year.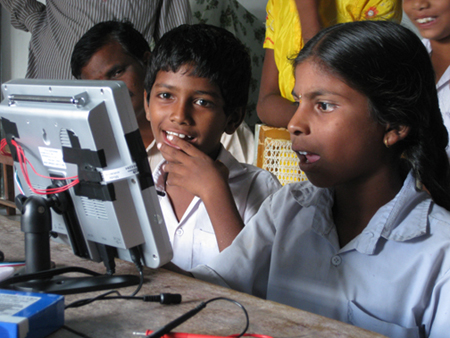 According to Palem, the I-slate is the first of a series of electronic notepads built around a new class of green, super-efficient microchips being developed in a partnership between ISAID and Switzerland's Center for Electronics and Microtechnology. These chips are expected to make it feasible for the I-slate to run exclusively on tiny solar panels, similar to those used in hand-held calculators.
Looking for green gadget gift ideas for this holiday season? We have you covered with our annual Green Gadgets Holiday Gift Guide – check it out now!