SunPower's proposed 250-megawatt solar plant in California's San Luis Obispo County looks like it might be getting off the ground soon. The developer has hooked up with the big energy provider NRG on the plant, and it expects to begin construction in the second half of 2011, with "a portion of the project" forecast to be in operation by the end of the year.
In a joint press release, the companies said NRG would assume ownership of California Valley Solar Ranch while SunPower would "continue to develop the project, and will design, build, operate and maintain the solar power plant." The companies said 25-year power purchase agreements with Pacific Gas & Electric for delivery of the 250 MWs have been approved by the California Public Utilities Commission.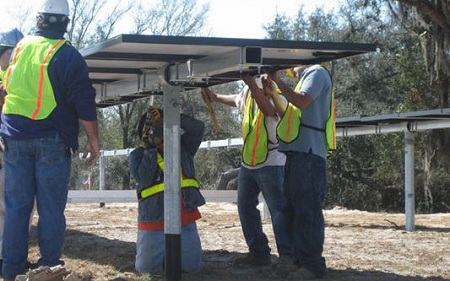 The plant is to be built on the Carrizzo Plain in southeastern San Luis Obispo County, near the Kern County line. SunPower says the area averages 315 days of sunshine per year and at 2,100 feet elevation is free of fog, boosting the sun intensity. The company says the area "was retired from agricultural use 30 years ago due to lack of water."
SunPower's plan for the site calls for a photovoltaic array using its "SunPower Tracker" system that follows the sun's movement across the sky.
For NRG, the investment in the San Luis Obispo plant — up to $450 million over four years, it said — is yet another indication of the scope of its push into solar through its NRG Solar subsidiary, which boasts a long list of plants in operation, under construction and in development, mostly in California.
Looking for green gadget gift ideas for this holiday season? We have you covered with our annual Green Gadgets Holiday Gift Guide – check it out now!