What could become Virginia's largest solar-power installation is getting $5 million in seed money, and the utility behind the idea is hoping to have a 50-acre, 4-megawatt (MW) plant in Halifax County up and running in 2012.
Dominion Power announced the grant to get the ball rolling on the facility, with the money coming from the Virginia Tobacco Commission. That might sound like an odd source, but it fits with the body's charge to use funds from the national tobacco settlement to promote economic growth and development in tobacco-dependent communities — like Halifax County.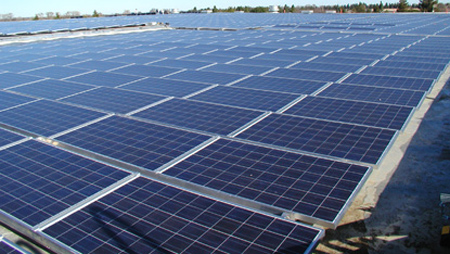 So that's one goal of the project, create jobs. But Dominion executive Mary C. Dowell said it will also help meet electricity demand that is growing by 2.5 percent annually, and close a 5,600-MW gap between supply and demand forecast for 2019. Four megawatts is pretty small in that context, but Dowell said the "integrated solar and advanced energy storage facility" would "regulate intermittency, enable peak shaving and increase grid reliability."
In its announcement, Dominion didn't reveal details about the solar technology the plant will use, but a Times-Dispatch article quoted Dowell saying "it's photovoltaic," adding that a key aspect of the plant will be its ability to store 12.5 megawatt-hours of power in nickel-iron batteries.
Would you like to get EarthTechling's Green News Buzz delivered to your inbox weekly? Sign up by November 12, 2010 and you could win a Voltaic Solar Fuse Solar Charger from EarthTechling.