After assuaging neighborhood concerns about blighted vistas, pretzel powerhouse Synder's of Hanover is turning a soybean field into a solar farm, installing some 16,000 photovoltaic panels over 20 acres across the highway from its headquarters in south-central Pennsylvania. The company said it will be the largest "largest ground-based solar energy system" in the state.
The company's original proposal faced criticism from area residents who feared the array "would obstruct views and cause property values to plummet," according to a local newspaper account. Synder's gained approval after reconfiguring the project, on the outskirts of Hanover, without reducing its scope. According to news reports, the installation, expected to be completed in March 2011, will supply just over a quarter of the company's electricity needs in Pennsylvania.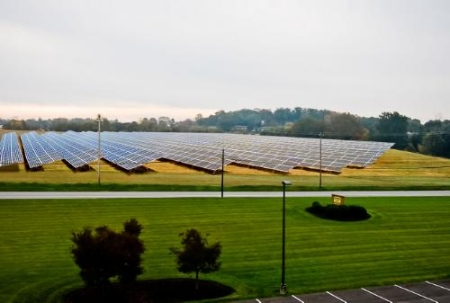 Snyder's calls itself the "global leader in pretzels and the nation's second-largest snack food company." The Pennsylvania headquarters location is also home to their manufacturing and distribution facilities for the eastern half of North America as well as Latin America and Europe. Like a lot of companies, sustainability has become part of Snyder's brand messaging, and in the past year it has promoted its adoption of compostable packaging made from 90-percent plant-based materials.
Like what you are reading? Follow us on RSS, Twitter and Facebook to learn more and join the green technology discussion. Have a story idea or correction for this story you are reading? Drop us a line through our contact form.