Back in June 2009, U.S. Department of the Interior Secretary Ken Salazar vowed to have 13 utility-scale solar projects on federal lands approved and ready for construction by the end of 2010. After a slow start, it's beginning to look like he might make it.
Salazar just green-lighted the eighth such project — all since early October — consisting of two 250-megawatt (MW) concentrated-solar plants 80 miles northwest of Las Vegas in Nye County, Nevada. The Amargosa Farm Solar Project by developer Solar Millennium will use parabolic-shaped mirrors that focus solar energy to generate steam and turn electricity-producing turbines.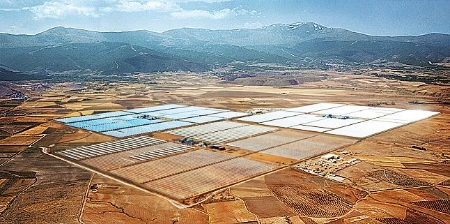 With its thermal storage capacity, Amargosa will have the ability to continue to feed power to the grid even at night. However, because of its heavy water needs, there was concern about the project's potential impacts on the nearby Ash Meadows National Wildlife Refuge and Devils Hole. The Interior Department's press release said it "worked closely with Solar Millennium to develop an innovative water mitigation plan that can serve as a model for future solar projects."
The Interior Department said Salazar's flurry of approvals this fall will lead to the construction of plants that will generate a total of more than 3,500 MW, enough electricity to power at least 1 million homes and perhaps up to 2.4 million. Construction on the plants will generate 6,000 jobs in the near term, and ultimately more than 700 permanent plant operations jobs.
As with all of these utility-scale projects, a key to making it happen was the availability of tax credits through the American Recovery and Reinvestment Act, in this case totaling around $1 billion for Germany-based Solar Millennium.
Like what you are reading? Follow us on RSS, Twitter and Facebook to learn more and join the green technology discussion. Have a story idea or correction for this story you are reading? Drop us a line through our contact form.