SolarWorld, a maker of solar technology, recently turned some heads in Portland, Oregon via its solar-themed involvement with the fashion industry. The company is now making another play into the local community, unveiling at a local school an interactive learning experience to teach youngsters about, you guessed it, solar energy.
The SolarLab, as SolarWorld calls it, is housed at the German American School of Portland in the nearby suburb of Beaverton, though it will be open as well to schools and other youth-focused organizations across the region. It features interactive, graphic and light-activated elements that reportedly will "enable kids to explore the environmental urgency of harnessing the sun's clean, inexhaustible energy as well as the history, physics and applications of solar technology."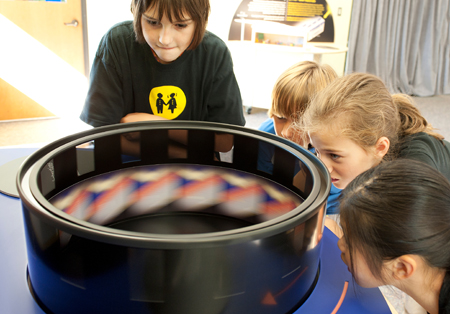 The exhibit is the second phase of a project to showcase solar power at the school, said SolarWorld in a statement. In partnership with Portland General Electric, Bonneville Environmental Foundation and Energy Trust of Oregon, the company donated 46 solar panels for a 7.8-kilowatt system on the school roof and façade in 2009.
Like what you are reading? Follow us on RSS, Twitter and Facebook to learn more and join the green technology discussion. Have a story idea or correction for this story you are reading? Drop us a line through our contact form.