Those solar-powered, single-space, charge-and-coin parking meters that went in all over Los Angeles several months ago are turning out to be a financial boon. The city said that in September alone, the meters — now numbering 10,000 — brought in $230,000 in additional net revenue.
Naturally enough, IPS Group, the San Diego-based company that makes the meters, heralded this news in a press release, in which it noted that Denver, Washington, D.C., and Eugene, Ore., are also "enjoying the same enhanced revenue and strong public support." All told, the company said, it has meters in 45 cities in the United States and Canada.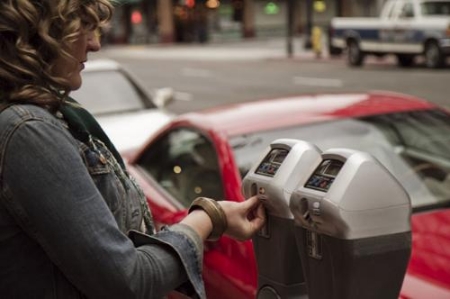 While additional revenue is great, it wouldn't be viable for municipalities if the cost of installing the meters was as high as you might expect. IPS said it keeps those costs in line with a single-space meter designed to retrofit into existing housings. "Only a new meter mechanism and top cover of the meter are needed," the company said. Los Angeles Mayor Antonio Villaraigosa couldn't be happier: "By reusing our existing poles and using clean solar power, these new coin and card meters are a win-win for customers, the city and the environment."
The company said the meters generate more revenue than traditional single-space meters for several reasons. Allowing cards along with coins increases the likelihood that people won't be caught unable to feed the meter. Having the payment portal right at the parking spot also boosts compliance. And, finally, the city can monitor the meters through a web-based wireless connection; if a meter breaks down, the city knows about it immediately and can fix it. The result is more working meters, 44 percent fewer citation appeals and a 96 percent reduction in staff time for data collection and review, IPS said.
Like what you are reading? Follow us on RSS, Twitter and Facebook to learn more and join the green technology discussion. Have a story idea or correction for this story you are reading? Drop us a line through our contact form.