It is certainly good news to hear that the White House plans to reinstall solar panels to help offset its energy use with cleaner power, but one has to wonder: Will President Barack Obama go hands on, helping with the actual installation of the panels himself? He could lead by example in doing this, much in the same way his counterpart in the tiny Indian Ocean nation of the Maldives did this week in conjunction with 350.org and solar company Sungevity.
Maldives President Mohamed Nasheed climbed on to the roof of his official residence, Muleeaage, on Thursday morning, sporting a safety harness and hardhat, to join Sungevity employees in installing the solar system that will, at peak output, produce 11.5 kilowatts of clean energy. This is expected to save the Maldives more than $300,000 over the life of the system. Nasheed, a former carpenter, screwed in the remaining bolts to help launch 350.org's weekend's Global Work Party, which the green nonprofit says is "the most widespread day of environmental action in the planet's history. At 7,000 climate events in 188 countries citizens will be getting to work on climate solutions and telling their politicians to do the same."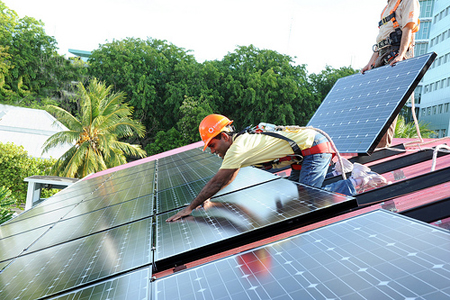 Just eight feet above sea level at its highest point, the Maldives sees reducing greenhouse-gas emissions to stem global warming as an urgent issue. The nation has announced plans to green its energy sector and pledged under the Copenhagen Accord to become carbon neutral by 2020. Sungevity, known as the company that helped to kick off a grassroots movement to get solar panels back on the White House roof, will also be conducting an energy audit of Muleeaage to identify ways to cut energy wastage.
"Solar power helps combat climate change, reduces our dependency on imported oil and most importantly cuts our electricity costs," Nasheed said in a statement. "The Maldives stands at the front line of climate change and we don't have the luxury of time to sit and wait for the rest of the world to act. We are getting to work to start the transition from fossil fuels to renewable energy."
President Nasheed Installs Solar on the Muleeaage from 350.org on Vimeo.
Like what you are reading? Follow us on RSS, Twitter and Facebook to learn more and join the green technology discussion. Have a story idea or correction for this story you are reading? Drop us a line through our contact form.