Brightsource Energy has been down a long road with its massive California-based Ivanpah Solar Electric Generating System. First it secured a $1.37 billion U.S. Department of Energy loan to help cover construction costs, followed by state and later federal approval of the project. Now that this is all in the rear view mirror, groundbreaking has occurred and construction is underway.
The groundbreaking, which happened yesterday, was well attended by governmental officials, including California Governor Schwarzenegger and U.S. Secretary of the Interior Ken Salazar. They were there to witness the beginnings of the massive 392 megawatt gross (370 megawatts nominal) capacity project, which will have the potential to produce enough clean energy to power 140,000 homes; reduce carbon dioxide (CO2) emissions by more than 400,000 tons annually, which is said to be the equivalent of taking more than 70,000 cars off the road; and provide $650 million in employee wages over its first 30-year life.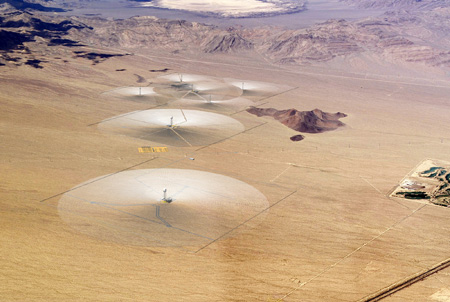 The Ivanpah complex will cover around 3,500 acres in southeastern California's San Bernardino County, about five miles from the California-Nevada border. It is being built by Bechtel Corporation, and will consist of three separate solar thermal power plants. It is said it will create more than 1,000 local union jobs at the peak of construction and that all three phases of the project are expected to be fully operational by mid-2013.
Electricity from Ivanpah will be sold under multiple power purchase agreements, added BrightSource, each of which will have 20-25 years duration with Southern California Edison and Pacific Gas and Electric Co.—nearly doubling the amount of commercial solar thermal energy now generated in the United States.
At the same time groundbreaking was going on, BrightSource was bringing on a new partner in the project to take the largest ownership stake yet. NRG Energy will make an investment of up to $300 million in Ivanpah and join Brightsource in construction, ownership, and operation of the solar development.
Like what you are reading? Follow us on RSS, Twitter and Facebook to learn more and join the green technology discussion. Have a story idea or correction for this story you are reading? Drop us a line through our contact form.