Solar-powered air conditioning is, clearly, a pretty bright idea. Recently, some of China's leading lights in government and industry, as well as emissaries from ten other countries, convened at the 2010 World Solar-Powered Air Conditioning Development Forum in Dezhou, in the province of Shandong, where Shandong Vicot Air Conditioning Co., Ltd. unveiled what they're calling "the world's first directly solar-powered air conditioning unit."
Those in attendance, which included members of the Chinese Academy of Sciences, the Chinese Academy of Engineering and a deputy director of the Ministry of Housing and Urban-Rural Development's Center for Policy Studies–as well as other experts and academics–"unanimously agreed" that Vicot's solar-powered air conditioning unit is a great innovation in China's solar-powered technologies sector (did they take a vote?), as well as a significant step for the industry's future.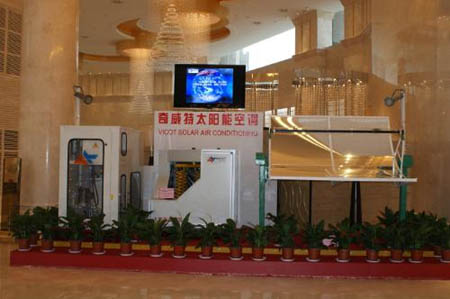 Vicot's solar-powered air conditioning unit boasts an 85% thermal cooling conversion efficiency, and its ability to utilize solar power is twenty-seven times that of your average water heating unit. It apparently works by pulling heat out of the air with water, a design which provides for 24-hour continuous cooling and heating, and, as an added bonus, supplies hot water to the household. When solar energy is not available, natural gas can take up the slack.
"This solar-powered air conditioning unit is the result of three years of hard work and the pioneering research efforts of Chinese and American scientists and engineers. The product is a fine example of globally cutting-edge technology. Solar-powered air conditioning units can be widely used in low-carbon buildings, and its cost is relatively low, so in 3.5 years, the unit's initial investment can be recouped, and in 6.7, the entire investment can be recovered," remarked Shandong Vicot Air Conditioning Co., Ltd.'s president Li Wen, in a statement.
Like what you are reading? Follow us on RSS, Twitter and Facebook to get green technology news updates throughout the day and chat with other green tech lovers.