It's official: the European Union has gone crazy for solar. As of 2009, a full three quarters of all the solar photovoltaic (PV) electric systems in the world were installed in the EU, bringing its total installed capacity to 16 GW (about 70% of the world's total, 22GW). How do we know? The ninth annual Photovoltaics Status Report by the European Commission's Joint Research Centre (JRC) told us so.
The study, carried out by the JRC's Institute for Energy, evaluated the results of a survey of more than 300 companies worldwide, taking a good look at the photovoltaic market and industry worldwide, with special attention to the EU, India, Japan, China, Taiwan and the U.S. In 2009, 27.5 GW of new power generating capacity was constructed in the EU, with about 21% (5.8 GW, up from 5.1 GW in 2008) of this PV-based. Not surprisingly, Germany lead the way with most of the growth (3.8 GW, reaching a cumulative value of 9.8 GW). Germany currently ranks first in the world for cumulative installed capacity (9.8 GW), followed by Spain (3.5 GW), thanks, largely, to renewable energy legislation in these countries.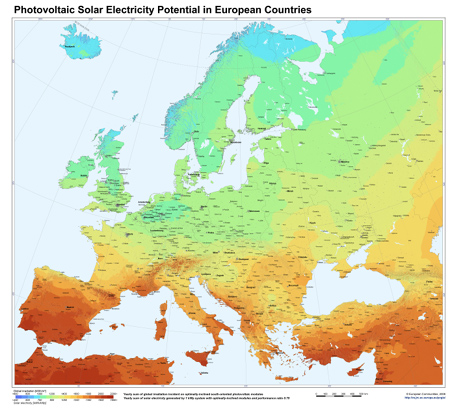 Ranking third in PV growth was Italy with 0.73 GW (cumulative 1.2 GW), followed by Japan: 0.48 GW (2.6 GW), the US: 0.46 GW (1.65 GW), the Czech Republic: 0.41 GW (0.46 GW) and Belgium: 0.3 GW (0.36 GW). A release concerning the report is quick to note that while the recent growth has been positive, the PV market is still in its infancy, accounting for only 0.4% of total supplied electricity in the EU, and a mere percentage a 0.1% in the world.
Other key findings of the report include, (1) Wafer-based silicon is still the main technology for solar cells, representing 80% of the market share in 2009, (2) The market share of thin-film solar products has increased from 6% in 2005 and 10% in 2007 to 16-20% in 2009, (3) Concentrating photovoltaics (which use lenses to concentrate sunlight on to photovoltaic cells) is an emerging technology growing at a fast pace, (4) The existing photovoltaic technology mix is a solid foundation for future growth of the sector, as no single technology can satisfy all the different consumer needs, and (5) The variety of photovoltaic technologies is an insurance against a "roadblock" for the implementation of solar photovoltaic electricity if material limitations or technical obstacles restrict the further development or growth of a single technology pathway. The full text of the report is available online.
Like what you are reading? Follow us on RSS, Twitter and Facebook to get green technology news updates throughout the day and chat with other green tech lovers.