It's the National Solar Tour, and it's coming soon to a community near you–unless you happen to live in North Dakota or West Virginia, the only two states in absentia. 648 tours over the coming months will highlight a solar-powered funeral home and a solar poultry farm, along with homes and businesses across the country using solar energy.
Sponsored by the American Solar Energy Society (ASES), the 15th Annual National Solar Tour will feature open house tours of thousands of solar-powered homes, businesses, and public agencies. The idea behind the tour is to let neighbors introduce neighbors to solar-powered innovations in their area, and how they're using them to 1) slash monthly energy bills, 2) reduce carbon emissions, 3) assert energy independence and 4) enjoy tax credits and cash incentives while improving their property values.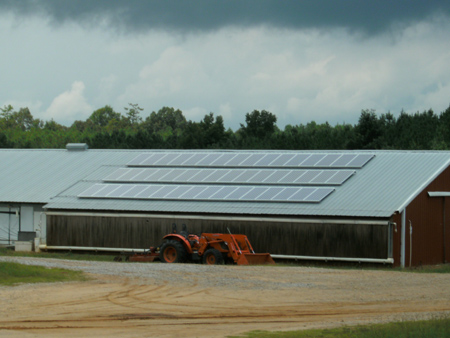 Some highlights that will be featured during the tour include an war veteran in Missouri who's made it his post-Iraq mission to battle America's dependence on fossil fuels; a Mississippi chicken farm that uses solar panels to power lighting and ventilation; and a "solar evangelist" in California who sized her solar power system to power both her home and her new Nissan Leaf.
"Interest in the solar industry is cooking, and consumers across the nation are eager to sample its wares, which bring enticing tax credits, cash rebates, improved property values and cleaner communities to home and business owners across America," said ASES National Solar Tour Manager Richard Burns, in a statement. More information on the "world's largest grassroots solar tour" is available online.
Like what you are reading? Follow us on RSS, Twitter and Facebook to get green technology news updates throughout the day and chat with other green tech lovers.