We aren't quite sure what to say on this one because of the somewhat strange nature of this story – SolarWorld, a developer of solar technology, has partnered with television's 'Project Runway' Season 7 winner Seth Aaron Henderson to unveil a dress inspired by solar technology. The dress itself is not solar powered though, which we are glad for, especially in light of this kinetic energy skirt which seemed a bit, shall we say, unique (though we suppose that is what fashion is supposed to do – inspire).
The dress from Henderson will debut at what is said to be the world's leading sustainable fashion event, Portland Fashion Week, running from Oct. 6 through 10. It highlights what is being called the "Solar is the New Black" theme of this event, which will also feature a runway composed of SolarWorld's black solar panels. The designer believes that "his designs are the first to go far beyond literal interpretations of solar power that have incorporated actual technology elements for show or use and artistically embrace what he called our future solar power."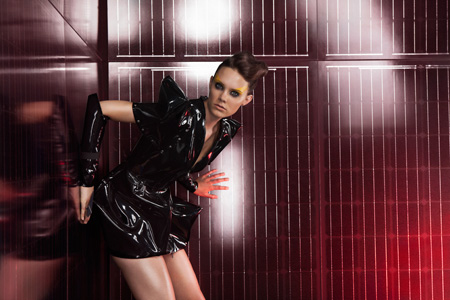 Now we aren't saying the inspiration for this little black dress that is part of a collection hitting the runway on Oct. 9 is a bad thing – we definitely love solar power, of course. We just wonder about the fanciful marriage of ideas like this designer collection with green technology. Is it cool or just too strange? Maybe a little of both? We will have to wait and see for the answer.
"The first look really captures my first impression when we walked onto the floor of the SolarWorld factory," said Henderson in a statement. "It's been interesting to see how one piece branches from the last. This will be a fun mix of fantasy and 'wearability,' hardness and softness — pieces that take concept and costume and connect them with reality. It's an artistic story about solar power and renewable energy. But, as it should be, it's a fashion story, a fashion collection."
Like what you are reading? Follow us on RSS, Twitter and Facebook to get green technology news updates throughout the day and chat with other green tech lovers.