It looks more like a large-scale art installation than a solar farm. But the United Arab Emirates' Light Sanctuary by Martina Decker and Peter Yeadon (which comes to us by way of Inhabitat) is does more than create a memorable image within a landscape dominated by stark white sands–it collects the abundant energy of the sun.
Conceived of as an elegantly unfurling ribbon of solar panels designed to take advantage of Dubai's immense solar resources, the project makes use of of a new type of thin-film dye-sensitized solar cells with suspended walls that curl and undulate across the desert landscape, mimicking a mirage from afar and creating an immersive and sensual experience up close. These aesthetic effects are not accidental. By creating an immersive art experience for those who choose to walk through the Light Sanctuary, the project is designed to spark spark inspiration and conversations concerning renewable technologies and aesthetics. (While the solar cells would capture more energy in a different configuration, the current arrangement captures both solar energy and the human imagination.)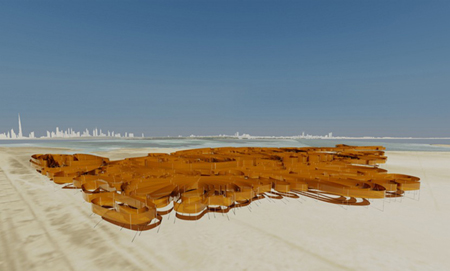 While not all renewable energy farms can take such liberties with form and aesthetics, Light Sanctuary brings up some questions worth asking. Human society needs electricity, day in and day out. In order to survive and prosper, that electricity needs to be harvested from renewable sources. As we move forward, instead of reproducing the ugly, landscape-scarring aesthetics of a coal plant, why not aim for something a little closer to art–a little more in tune with the natural environment, and a whole lot easier on the eyes?
Like what you are reading? Follow us on RSS, Twitter and Facebook to get green technology news updates throughout the day and chat with other green tech lovers.