Another day, another large scale solar farm online to provide renewable energy to nearby homes. This time around the solar farm is in Ohio and it is called the Wyandot Solar Farm. Owned by Public Service Enterprise Group (PSEG) Solar Source, it is situated on 80 acres, hosts more than 159,000 ground-mounted panels and can provide enough power for roughly 9,000 homes.
Wyandot, which was dedicated by Ohio governor Ted Strickland last week, is a 12 MW facility that is currently the largest solar installation in that state. It is located in Wyandot County and has a long term agreement with American Electric Power subsidiaries Columbus Southern Power and Ohio Power Companies for purchase of the electricity it produces. Power from this location gets onto the grid via a four-mile long generator lead connected to the Upper Sandusky Substation.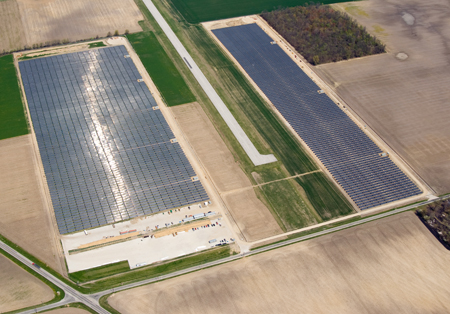 "You don't have to be from Wyandot County or even the state of Ohio to be proud of what has been accomplished here," said PSEG's Chairman, CEO and President Ralph Izzo in a statement. "The Wyandot Solar Farm points the way forward, and is both an environmental and economic win. As a nation, we can all benefit from a future with more green energy that improves our energy security, helps in the fight against climate change and creates good jobs."
Like what you are reading? Follow us on RSS, Twitter and Facebook to get green technology news updates throughout the day and chat with other green tech lovers.