Can disabled veterans provide rapid assistance in times of crisis? A recent emergency shelter demonstration hosted by the Los Angeles Department of Disability, the nonprofit group Prevent Hate, veterans from the U.S. Department of Veterans Affairs' Long Beach Healthcare System and event sponsors SolarWorld proves that the answer is 'yes.'
The goal of the home project was to create an ADA-compliant structure that can be quickly deployed during emergencies, used to reduce homelessness and constructed easily by people with disabilities. These structures are designed to make use of SolarWorld Sunmodules, which were mounted on the structure (though not actually installed).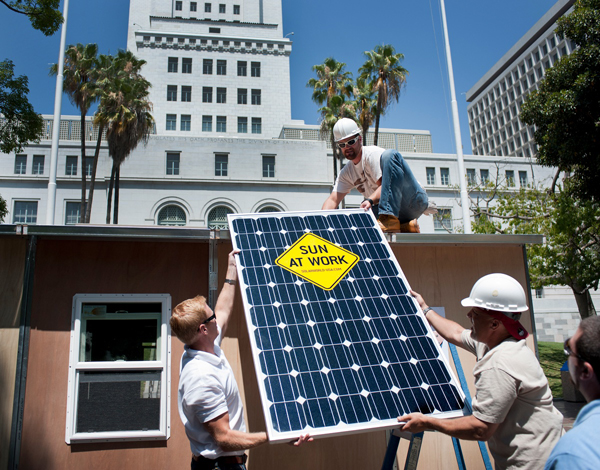 SolarWorld's sponsorship of this event, celebrating the 20th anniversary celebration of the Americans with Disabilities Act, is more than skin deep. The company has also helped to sponsor four Oregon job fairs for soldiers returning from the Iraq and Afghanistan, and is currently actively recruiting employees with "high mechanical aptitude and work ethic" for a planned 500 MW expansion of a solar plant, expected to bring 1,000 green jobs to Hillsboro, Oregon. The company recognized, in a statement, "the destabilizing and military effects of the world's overdependence on fossil fuels and the need for veterans returned to their home countries to find sustainable employment." The company has also demonstrated a commitment to providing solar power for those affected by emergencies,  having made three rounds of donations to health clinics and water-pumping stations in Haiti.
"We need to embrace suitable job candidates among our returning military for redeployment on a new, green mission for America: marshaling our own manufacturing prowess to diversify our energy base to include reliable, clean, undiminished energy from the sun," said Kevin Kilkelly, SolarWorld's president of U.S. sales, in a statement. "We also need to spread that technology in countless regions that, due to disaster, war or poverty, lack electricity to care for themselves according to basic health and life standards."
Like what you are reading? Follow us on RSS, Twitter and Facebook to get green technology news updates throughout the day and chat with other green tech lovers.