Look out, Detroit, here comes Ann Arbor! In the American Solar Car Challenge–a competition that saw 17 different teams from across the country competing–the University of Michigan Solar Car Team has once again taken first place, according to Inhabitat.
This win marks the sixth such win for Michigan's solar car team, the first of which occurred in 1990 with their Sunrunner vehicle. This year's winning solar car, the Infinium, covered 1,100 miles in 28 hours, 14 minutes and 44 second–despite technical challenges due to a lighting board that shorted out in the rain–beating out the University of Minnesota's solar car by over two hours.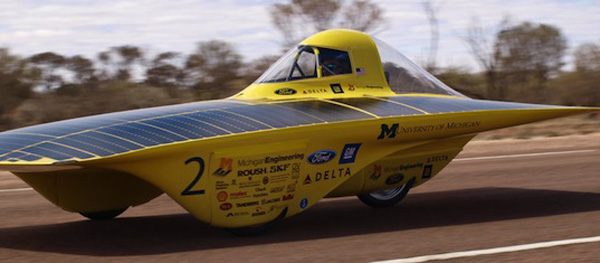 According to test results reported by the University of Michigan, the Infinium has a top speed of 100 mph, but for the race–from Broken Arrow, Oklahoma, to Naperville, Illinois–the rocketship-like car respected speed limits and stop-lights, averaging 40 mph.  This year's win marks the third consecutive American Solar Challenge win for the University of Michigan, which begs the question–when will these folks get together with automakers in Detroit, and start marketing fast solar tech for the masses?