Solexant, a solar technology start up focused on building third generation ultrathin-film solar PV technology, has chosen Gresham, Oregon as the location of its first manufacturing facility. This plant, once completed, will be that state's first thin solar film manufacturing facility and the largest nanotechnology manufacturing facility in the world.
Lots of money has been poured into bringing this 100MW plant to Gresham. This include a $25 million loan from the Oregon Department of Energy (ODOE), the largest loan bestowed in the 30-year history of the state energy loan program (of which, OregonLive reports, the hosting city will back $13 million of); an $18 million energy tax credit from ODOE and $64 million in equity funding Solexant has raised to date. It is said the factory will will initially be housed in an existing 100,000 to 150,000 sq foot facility in Gresham with plans to construct the new manufacturing line in 2011. In part because of a "a robust incentive package" from Gresham, Solexant expects as well to build additional 100MW lines in Gresham after the first line becomes operational.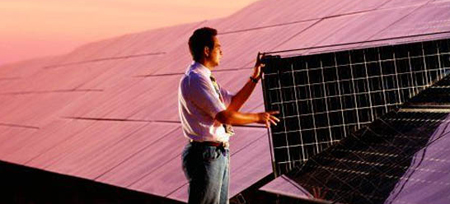 Solexant's technology, the company said, was originally developed at Lawrence Berkeley National Lab (LBNL) by Dr. Paul Alivisatos and his team. It is a printable nanocrystal technology platform that can produce flexible thin film solar cells using a variety of materials through a fast and simple printing process using its nanocrystal inks.
"Solexant greatly appreciates its partnerships with the State of Oregon, the Oregon Department of Energy and the City of Gresham to facilitate the construction of the world's largest nanotechnology-based thin film manufacturing facility in this beautiful, business-friendly state," said Damoder Reddy, CEO of Solexant, in a statement. "As Oregon's first thin film solar manufacturing plant, the Gresham facility will prove the commercial application of our nanocrystal ultrathin-film solar cell technology in a very capital-efficient way and solidify Solexant's place as a leader in the solar industry."
Like what you are reading? Follow us on RSS, Twitter and Facebook to get green technology news updates throughout the day and chat with other green tech lovers.