Earlier this year, we covered the soleckshaw, a solar-powered rickshaw designed to ease the hardships faced by rickshaw drivers in India. Now, the Indian Department of Posts is testing the waters for the soleckshaw to do the same for the country's many postal workers who currently deliver mail via bicycle.
Greendiary reports that the soleckshaw, developed by the Council of Scientific and Industrial Research (CSIR) and Kinetic Motors, comes equipped with a 20-ampere motor with the power to keep the nation's postal delivery bikes running exclusively on solar power for 50 km (31 miles) on a daily basis. This doesn't sound like a lot, but considering these vehicles work largely via electric assist–and postal workers are currently pedaling every mile of their route–those 31 miles via electric assist are bound to go pretty far. (And when the sun isn't shining, there's also the option for postal workers to get their batteries recharged at charging stations.)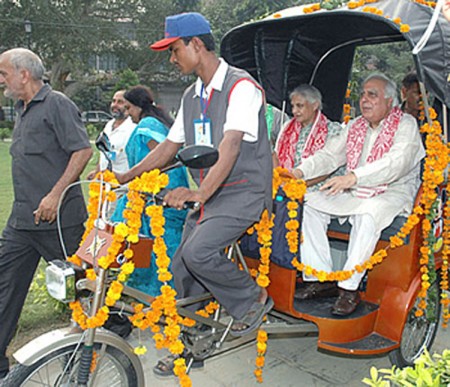 Priced at INR 25,000 (approx. $540), the 100 kg solar rickshaw is apparently sturdy enough to carry half its weight in postal goods. Initially, the roll out of India's postal soleckshaws will begin with 10 rickshaws introduced on a pilot basis, projected for Dausa. "Depending on the trial results, we may use these vehicles more in the postal department," said Sachin Pilot, Minister of State for Communication and IT, to the Deccan Herald.
Like what you are reading? Follow us on RSS, Twitter and Facebook to get green technology news updates throughout the day and chat with other green tech lovers.