The Bureau of Land Management (BLM) lands in the deserts of Nevada have long been known as nuclear test sites. Now, they'll be home to testing of a different, decidedly more earth-friendly sort, as the U.S. Department of Energy (DOE) Secretary Steven Chu, U.S. Department of Interior Secretary Ken Salazar and Senate Majority Leader Harry Reid of Nevada recently announced the establishment of a new Solar Demonstration Zone located in the southwest corner of the Nevada Test Site.
The purpose of the Solar Demonstration Zone is to demonstrate cutting-edge solar energy technologies and projects–especially those focused on concentrated solar power (CSP)–providing a critical link between the DOE's advanced technology development and the full-scale commercialization of those efforts. Under the agreement, the federal government will dedicate an area larger than the island of Manhattan (more than 25 square miles) to solar energy research. The Solar Demonstration Zone will complement the BLM's establishment of 24 Solar Energy Study Areas (SESAs) on public lands across the Southwest, helping to ensure that advanced CSP technologies are ready for the commercial market.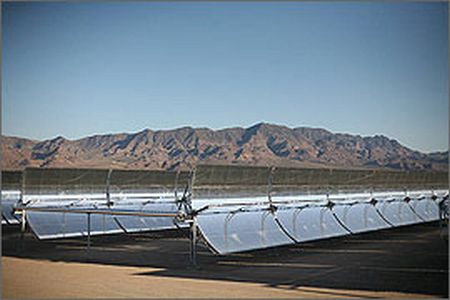 Nevada's Solar Demonstration Zone will be a collaboration not only between the BLM and the DOE, but with the U.S. Air Force, as well, and is expected to serve as a "test bed" for similar solar projects throughout the Southwest proposed near military installations. Not only government projects will be approved for this Solar Demonstration Zone (and presumably, others that may follow), but plans as well are underway to create a new DOE funding opportunity for demonstration projects at the Nevada Test Site that will include matching investments from the private sector.
"The Nevada Test Site is about to play a new role in securing America's future – but instead of testing nuclear weapons, we will test new solar technologies that will help put America on a sustainable energy path," said Secretary Chu, in a statement.  "Working closely with the Department of Interior, and with the critical leadership of Senator Reid, we will demonstrate technologies that will lower the cost of solar energy, accelerate the pace of innovation, and help build a clean energy economy."
Like what you are reading? Follow us on RSS, Twitter and Facebook to get green technology news updates throughout the day and chat with other green tech lovers.