When one thinks of solar power plants, typically remote locations like deserts come to mind. Not so in Chicago, where this week mayor Richard M. Daley joined Exelon Chairman and CEO John Rowe and other local dignitaries in dedicating what is said to be the nation's largest urban solar power plant. Exelon City Solar, as it is being called, sits on a a 41-acre site within city limits.
The site chosen for this urban solar project is a former industrial brownfield property that had been vacant for more than 30 years. It hosts 32,292 solar photovoltaic panels that, at peak, can generate more than 14,000 megawatt-hours of electricity per year. This equals up to enough power for up to 1,500 average homes. The 10 MW plant, which cost $60 million to build, will be owned and operated by Exelon, who will also market the electricity it generates.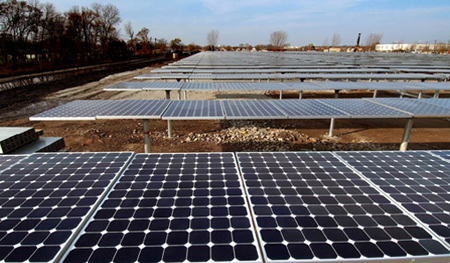 The project created more than 200 construction jobs, with a least half of all work hours filled by Chicago residents. Construction on the site began in July 2009, with commercial operation commencing in December 2009 and final site work completed this month. SunPower designed, manufactured and installed the system.
"This state-of-the-art demonstration facility will give Exelon valuable insights into the solar market, deliver a real environmental benefit for Chicago by adding clean energy to the grid, and enhance the neighboring community by beautifying a brownfield and improving safety for local residents," said Rowe in a statement.
Like what you are reading? Follow us on RSS, Twitter and Facebook to get green technology news updates throughout the day and chat with other green tech lovers.