First, dear reader, we brought you the solar bonsai tree off-grid charger. Now, we present the Solarflora, an elegant sculpture (which comes to us via Inhabitat) that boasts three solar panel "leaves," basking in the sun to supply clean, green off-grid energy for the New City Schools' urban garden in Long Beach, California.
Billed as "green power for public spaces," the Solarflora–developed by Nectar Design–resembles a giant flower, rising in clean and slightly curvilinear lines to petal-like forms at its apex capable of holding one, two, three, or four solar panels and supplying up to 420 watt-hours of electricity per day, depending on leaf configurations.  While its designers see the Solarflora as an artistic addition to parks, shopping malls, museums, fairgrounds, convention centers, bus stops, and wide variety of other public places, it's no lightweight when it comes to function, either; the petals/leaves of the Solarflora can be adjusted to make best use of the angle of local sunlight, and it's constructed to withstand hurricane-force winds.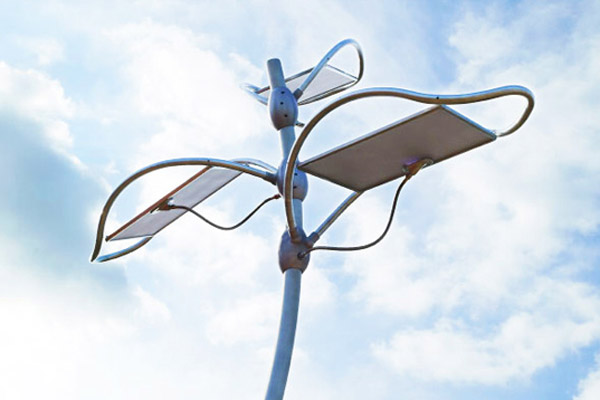 The thinking behind designs like this, in our opinion, deserves to become more widespread. If we're going to bring alternate forms of energy generation into our lives, in both the public sphere and in our backyards, why not make it beautiful while we're at it? Solar design such as this seems as likely to please park-goers, urban planners and homeowners associations alike.
Like what you are reading? Follow us on RSS, Twitter and Facebook to get green technology news updates throughout the day and chat with other green tech lovers.