It's true that most cell phone manufacturers are focusing on more–more features, more functionality, more widgets and more money to purchase your next phone. But a design team from Brooklyn known as Primary Projects thinks we should focus on less, particularly when it comes to wireless communication in the developing world. Hence, the Solar TeXter: a simple and elegant handheld device exclusively for texting that costs just $1.00 to produce.
The Solar TeXter (which comes to us via Greendiary) was developed for Metropolis Magazine's Next Generation Design Competition, where it was one of nine finalists selected out of nearly 300 entrants. Featuring a stripped-down, five-button interface and a black-and-white LCD screen, it makes use of recycled parts and relies exclusively on nine solar cells for juice. The device targets countries like Uganda, where texting is inexpensive compared with cell phone technology. (Apparently, people in areas such as this regularly use Google short-message services for communicating with family, farming advice, and basic socializing.)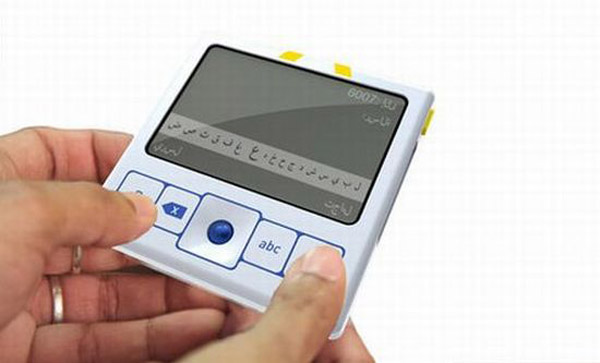 "While most mobile devices are moving in the direction of providing everything to the user—text, voice, Internet, camera—we choose to focus on one feature and make it as simple, streamlined, and elegant as possible," said Donna Zimmerman, one of the Primary Projects Designers, on the Next Generation website. "Our fix is to design specifically for this market, with their needs in mind."
Like what you are reading? Follow us on RSS, Twitter and Facebook to get green technology news updates throughout the day and chat with other green tech lovers.