We've covered some novel solutions to sustainably powering city streetlights, but this would have to be the most obvious: solar power. (After all, streetlights do nothing but hang around outside all day, soaking up the sun.) A new concept design by Natalia Romanova called Self-Sufficient Streetlights (which comes to us by way of Yanko Design) takes a good look at just how we might someday light our city streets with the sun–and more.
These lamps have a metal spine, concrete base, recycled plastic panels, LED-arrays, elastic solar panels, and are fitted with an alarm panel. The alarm panel will be reactive to signal emitters similar to those that currently activate stoplights when emergency vehicles are present, allowing them react and shine brighter according to volume and movement. Why? Because Romanova found that 43% of accidents in cities occur due to animal-related incidents, therefore these alarms will brighten up around car accidents in the area, contributing to public safety.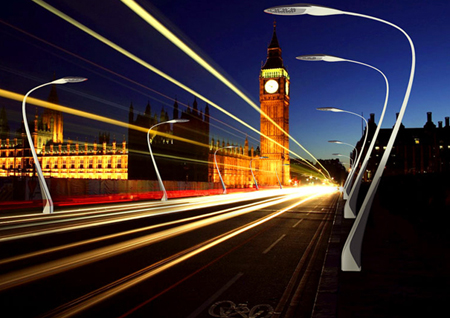 The designer also sees these lamps as featuring plugs for electric cars, with power provided by something called the"Global Electricity System"–but the streetlights themselves will be run by their onboard solar panels, which will produce and store more than 1.3 KV of energy per hour of sunlight–perfect, considering the LED light arrays use less than .5 KV of energy. That means that for every hour of sun, there's more than two hours of light that's made for the night.
Like what you are reading? Join us on Facebook and chat with other passionate green technology readers about this and other stories of the day!