Green and renewable energy technology continues to evolve at a rapid pace, but breakthroughs are only possible if plenty of cash is available to support development. Earlier this month, U.S. Department of Energy (DOE) Secretary Steven Chu announced as much as $62 million in funding for the research, development, and demonstration of a multitude of projects related to concentrating solar power (CSP) systems.
CSP systems use mirrors or lenses in combination with tracking systems to focus sunlight into a small beam. That heat is then used to power engines or turbines, which produce electrical power. Specifically, the goal of the DOE's funding is to develop CSP systems capable of providing low-cost electrical power. According to the DOE, each of the projects chosen by Chu will "seek to improve component and system designs to extend operation to an average of about 18 hours per day, a level of production that would make it possible for these plants to displace traditional coal-burning power plants."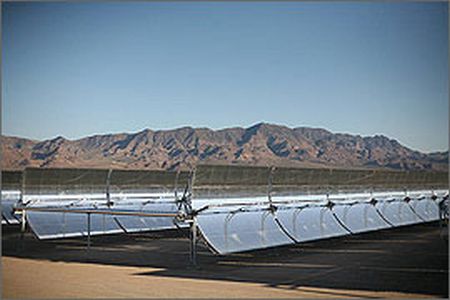 All project selections fall under two categories: Concentrating Solar Power Systems Studies, and Concentrating Solar Power Component Feasibility Studies. The organizations working on a project will receive a portion of the $62 million to facilitate their work. eSolar, Inc. in Pasadena, California, for example, will receive up to $10.8 million to design, build, and test a CSP power plant system with new components. Detailed information on each project can be found on the DOE's CSP Program website.