If you're already in the habit of sporting super-geeky photo-safari vests on hikes and outings, you've just found your match-made-in-solar-electric-heaven. If you're interested in cool solar-charging garments but are less-than-assured when it comes to sporting your inner geek, you may want to pass on this one.
The Solar Vest from the wholesale electronics company Chinavision features four solar cells sewn into the back panel of the vest that can recharge a large-capacity 8.8Ah battery pack stored in the left hand pocket. This battery then outputs 5V, 6V, 9V or 12-20V, servicing all of your electronics at once–according to Red Ferret, anything from an iPod Shuffles to your laptop batteries. Eight power adapter tips and seven connectors ensure that whatever you're juicing, this vest will do the job (provided you're in the sun).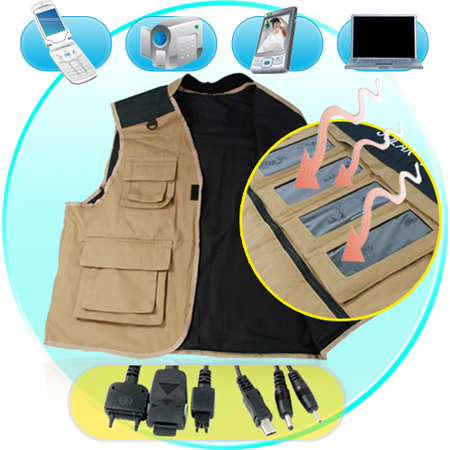 The Solar Vest is also waterproof and features a whole lot of pockets for all of your stuff, electronic and/or gadget-related or not, making it the perfect gift for someone who loves to venture into the great outdoors with lots of gear. The urban commuter? Not so much. $126.00 online.