The problems of the road are many: ice coating the roads during winter; confusing detour directions during construction and accidents; barely visible lane markers after dark; drivers swerving left of center due to eating, cell phone use, or even drunkenness. Solar Roadways believes these and other difficulties can be attributed to our current roadway system, one that is antiquated and no longer up to the task of guiding the world's drivers. Their proposed solution, one that might seem obvious due to their company title, is a solar roadway.
As explained by Ecofriend, roads would be comprised of structurally engineered solar panels. Yes, you would be driving on solar panels. LEDs beneath the surface will paint road lines, and "the system also includes a heating element to prevent snow/ice accumulation in northern climates." Solar Roadways plans to incorporate benefits that go beyond lighting paths and heating roads. Imagine if drivers who go left of center too often were highlighted by a red ring that stayed with them for a specified distance? Communication devices built into roadways could sync with trips entered into your on-board GPS to manifest an arrow on the road directly in front of your vehicle. Lines set to the current legal speed limit could travel beside your vehicle: if you're going faster than the lines, it's time to ease your foot off the gas.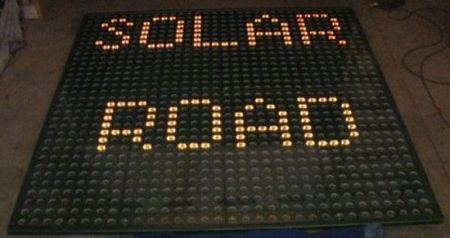 But what if calamity–an accident, a fuel truck explosion, widespread power outage–severs the power to the road, leaving everyone driving aimlessly in the dark? Not an issue, assures Solar Roadways. The company's FAQ section of their website explains that each solar road panel will have four electrical connections on each of its four sides. "If too much current begins to flow, the electrical connection will be shut off, therefore isolating any damaged panels." The next stage of the project, according to Ecofriend, is to begin manufacturing.
Enjoying EarthTechling? Vote for us as Best Sci-Tech Blog (scroll down to fourth category) in the TreeHugger Best of Green Awards! Thanks!