It looks like a cross between one of Bucky Fuller's geodesic domes and a mobile space pod, and it would seem that the MercuryOneHouse really is a little of both. Combining design sensibilities derived from nature–a droplet of water, specifically–and low-impact living with the mobility of something that might best be described as a mobile home for astronauts, the project by architects Arturo Vittori and Andreas Vogler of Architecture and Vision was was inaugurated at the Venice Art Biennale 2009.
Power for the MercuryHouseOne is provided exclusively by semi-transparent photovoltaic cells; the glass fiber monocoque body is covered in an ultra-thin, white Carrara marble (a local product in Italy) that features a mosaic. Large, slightly colored translucent acrylic openings expand the sense of inner space by connecting the pod to its surrounding environment and at night, to the starlit sky.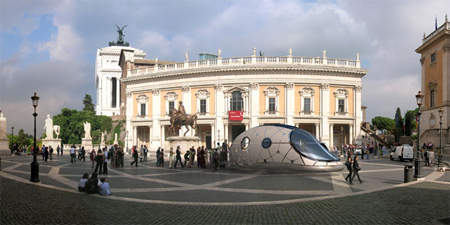 According to Inhabitat, the MercuryHouseOne was designed by Architecture and Vision for a client as a mobile pavilion to showcase products while promoting innovative technologies and materials; however, it can be outfitted for a diverse range of applications, including office space, off-grid mobile living quarters and/or swank festival eco-lounge.