It wasn't too long ago that we highlighted a concept tree which looks a little like a palm but comes with integrated solar panels and a wind turbine. We now turn our alternative energy concept plant focus from the outside of your home to the interior with a concept solar plant design which can be used to power portable electronics.
The Solar Plant, highlighted by Green Diary, is a concept from Ku Bon-Seop of South Korea. Much in the same way a real plant  converts C02 using energy from the sun, this design idea suggests a device in a special plant-like container that can be used to "transform unlimited sunlight into electric energy by photosynthesis."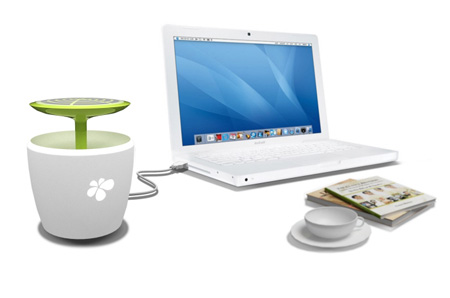 The design concept works fairly simply. One gets the solar-paneled cover of the Solar Plant to rise up and activate. The lid then collects energy for an unmentioned amount of time from the sun. Once the internal battery (we assume) is fully charged, the Solar Plant can than be used to charge the batteries of other devices. A simple concept by solar charger standards, but quite unique in its look and operation.