From the mind of Colombia-based industrial designer Carlos Cepeda Danes come this rather innovate spin on solar lighting for your home – a mango solar lamp. Like other solar lamps, you charge it during daylight hours via its integrated solar panels so that light fills the area around you in the evening though its LED light. It has all those basic eco-friendly elements, plus it looks like a cool mango fruit.
Danes feels the design of the mango solar lamp should be simple, with no wiring or switches. It has automatic activation as the sun sets and should be easy to install. It should also be constructed in one of two eco-friendly ways: for mass production, it should be blow molded from recycled water bottles and other related plastics, while for "local and organic" production it is suggested it be made from the shell of a dried Totumo fruit. One can apparently use this fruit to make a variety of crafts.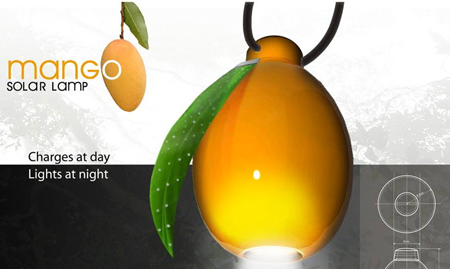 With this being but a concept and all at this point, don't expect to find it at your local lighting store. Still, the idea is pretty cool when you think about it – string up a bunch of these in the morning in your backyard during the summer and let them charge. When night comes, you can throw an eco-friendly tropical party lit by the subtle glow of mangos.
Mango Solar Lamp [via Green Diary]