Solar electricity-generating windows and walls may seem space-age, but a pilot project partnership between Konarka Technologies, Inc. and Arch Aluminum & Glass Company may be leading the way towards making this application a reality in the near future.
Konarka Technologies, Inc. has developed a product called Konarka Power Plastic, which converts light to energy. The company will be partnering with Arch to create a curtain wall structure at one of Arch's manufacturing facilities in Tamarac, Florida. The curtain wall pilot project is designed to generate 1.5 kilowatts of power to the facility, and is slated to be fully operational by year's end.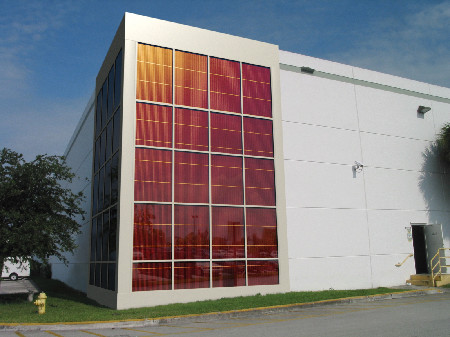 "The purpose of this project is to test the performance and robustness of our solar panel solution for a curtain wall application with a variety of glass and window configurations," said Konarka vice-president Dr. Terri Jordan, in a statement. Arch's vice president of marketing, Max Perilstein, added that integrating 'active solar glass' into the wall structure of the facility will allow Arch to make greater use of a typical manufacturing building by giving it the ability to generate its own energy.
Konarka [via press release]