From Coroflot, the online site for getting creative projects noticed, comes a solar light from designer Vina Domingo-Roy that can be set up in various configurations to act as a desk light, a spotlight, even a wrist light for that lonely walk after dark from work to your car.
The shape lends itself to all kinds of uses, so the word "ergonomic" doesn't really cover it. In fact, with its wire-hangar metal "feet," it reminds me of a friendly little bot that might wander across my desk softly chattering to itself as it scarfs up Skittles. Not only does the bot have an indicator light – to tell owners that it's time for a recharge – but the wire-hangar stand is removable  (so bot doesn't get up and wander around the house at night?). Finally, a fabric strap, also detachable, allows owners to carry the light as a wrist (or ankle?) light in dark and potentially dangerous places. My only objection? The wrist-light graphic seems to suggest the bot wearer is smoking a cigarette, which is a real no-no in 21st century America.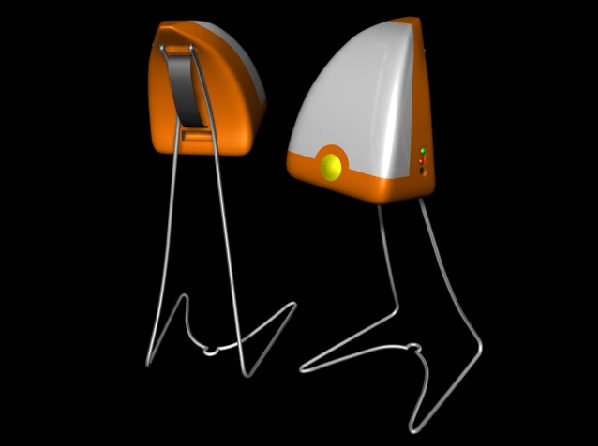 Beyond the bot, Domingo-Roy also offers a solar charger concept in the same smooth, ergonomic style that clips to the waist or can be carried by hand from a wire-hangar (removable) handle like an old railroad. This model has an indicator light on the face rather than the side, but is equally adaptable and comes with a belt clip. I'm a little skeptical about wearing it at waist level, where it must face a daily bombardment from table edges and other impacts, but Domingo-Ray's color studies offer some bright focal points for what may in future become as essential as a watch; a portable solar charger.
Finally, Domingo-Roy offers a Saturn solar lamp, a circular device again on a wire stand that can be folded at least a dozen different ways. This lamp, looking more like a makeup mirror than a light, has no indication of scale. It could be two inches in diameter or 12. Fortunately, the solar charger part of this three-part offering is quite small, especially when compared to some portable solar chargers we wrote about in 2010. (P.S., that highly comprehensive article is a definite don't miss).