What would you end up with if you combined a solar light with a rainwater harvest system wrapped in a design reminiscent of nature? We're guessing it would look a lot like the Mango eco-street lamp. Conceived to illuminate the streets of India by Hungarian designer Adam Mikloski, the Mango design concept is now being featured on Behance, an online creative platform for design professionals.
The Mango street light is meant to make use of the weather patterns of India, which can consist of monsoons certain parts of the year, and blazing hot sun for the remainder of the year. In fact, Mikloski earned himself a spot among 10 finalists of the India Future of Change Design Competition in New Delhi with his Mango design. "Recycling the power of the sun and rain constitutes the basis of my concept," he explains on the Behance site.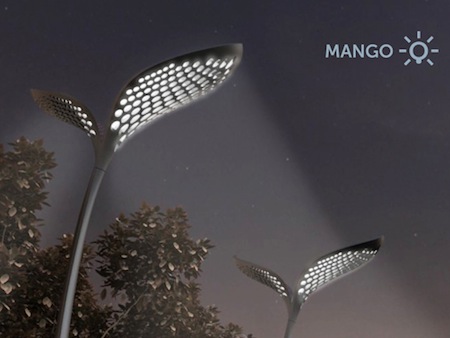 To define the shape of the light he used the look of leaves and shoots of plants often found naturally growing in the region. "Leaves are extremely important for drainage," he says. The shape of mango leaves worked perfectly in terms of  functionality, shape, and cultural history.
Atop the highest leaf, there is space to install solar cells that are used to light LEDs through rechargeable batteries. Underneath the top leaf there is also space for a water tank.  The stalk thus serves as a place to collect and recycle the water that is captured.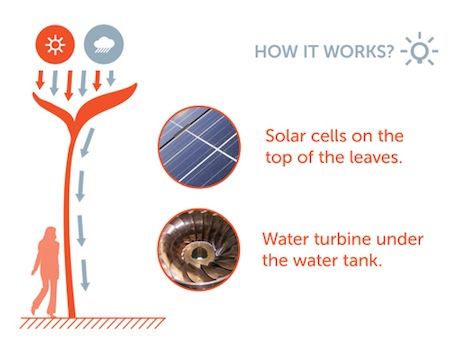 We've seen a few rainwater recycling systems powered by solar in our day, including a rainwater irrigation invention. But the Magno design reminded us of another clever design inspired by nature, the Hydroleaf, that captures rain water and purifies it using solar power, just like a real plant. Looks like an elegant, and smart, way to make use of rain and sun.