The designers and engineers at LuminAID Labs not only came up with a brilliant idea for a portable, renewable light source, they're using that idea to do the right thing.
The idea for LuminAID's ingenious, inflatable, solar-powered LED light came to cofounders Anna Stork and Andrea Sreshta while in a design studio at Columbia University's Graduate School of Architecture. The studio was focused on designing disaster relief aid and infrastructure for post-earthquake Haiti. "When thinking about what we could design to make a difference," they write on their website, "we decided to focus on light because it had the potential to greatly improve the comfort, safety, and survival of earthquake victims. The LuminAID solar light was designed in response to the unsafe conditions of the tent cities at night and to fulfill the basic need for light in post-natural disaster situations."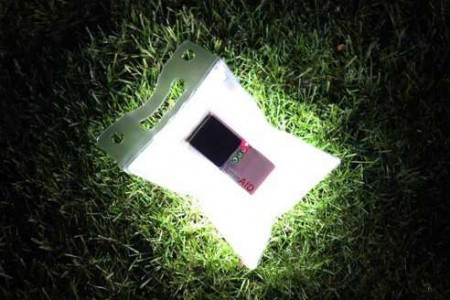 The utility of a LuminAid for disaster relief cannot be overstated. The light, which folds flat for easy packing, inflates to produce a quality of light similar to a lantern. The LuminAID solar light provides five hours of light and fully charges in six hours. The circuit and photovoltaic panels are sandwiched between the two layers of plastic, protecting it from damage and making the pillow waterproof. When inflated, the LuminAID solar light can float. The outside layer of plastic can be printed with additional logos or patterns.
The light is portable, lightweight, packable, waterproof and uses renewable energy. The applications seem almost endless. Not only can the LuminAID provide comfort in disaster relief, but it's a must-have for campers, hikers, search and rescue teams.  Both Stork and Sreshta have been active distributing the lamps to areas in need and to bolster their efforts they've recently launched a Give Light, Get Light campaign on www.indiegogo.com. For every $25 light purchased, LuminAID will distribute a light to someone in need.
Help Carbonfund toward their goal of planting 1,000,000 trees. Subscribe to Green Earthling Deals by Friday, Nov. 25, 2011, and EarthTechling will donate $1 for every new subscriber. See contest rules for details. Sign up in the upper right-hand corner at EarthTechling.com or right here.